An Offer is a list of conditions proposed by a PAMM Manager to their Investors on what are the requirements they need to fulfill in order to be able to join the PAMM Manager's pooled account. This includes the Trading Interval period, various fees to be paid by the Investor, and any restrictions of balance operations.
PAMM Managers have the right to create, edit and delete Offers via their PAMM accounts. At the same time, an Offer can't be modified by the PAMM Manager once it's active – which entails at least one Investor maintaining their funds with said PAMM Offer.
In order to create an offer, log into your PAMM portal using your PAMM Owner Account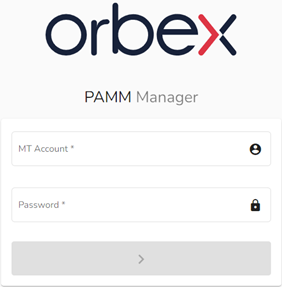 The first thing a PAMM Manager sees after logging into PAMM with his Owner credentials is the Money Managers tab. Here you can find a list of all the Investor PAMM accounts linked to you as a PAMM Owner. Clicking on a PAMM account will lead you to the investor's account summary page (Info subpage).

Info subpage

Offer
On the Offers subpage, PAMM Managers can create and edit their Investment Offers.
By clicking the Create button, you as a PAMM Manager will see the New Offer dialog. The option to create a new offer will then become available. You will then need to fill out the required fields, including the Trading Interval and Performance Fees.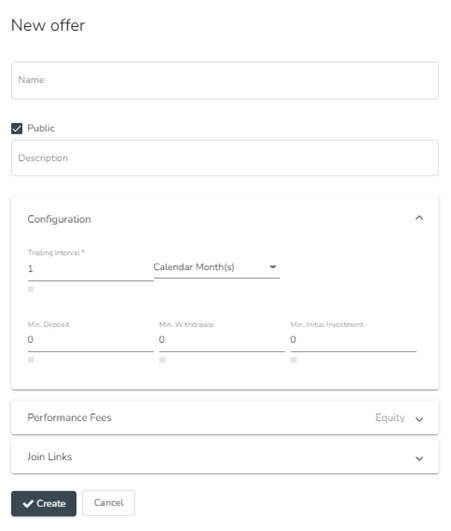 Once you have completed your new Offer settings, simply select the "Create" button to create your new Offer.
Investments tab
The Investments tab displays a list of all the Investments of all PAMM accounts linked under the PAMM Owner (PAMM Manager) and their various Offers,

while the Investments subpage displays the individual Investors of the selected PAMM Offer only.

History tab
The same logic applies to the History tab: the tab displays all the Transactions and Requests for all the PAMM accounts linked to a particular Owner,

Manager operations
Additional Manager operations are available by clicking the "…" Menu button.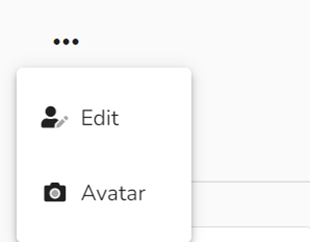 The Edit menu is a part of Individual PAMM account settings which can be changed by PAMM Managers themselves. This contains the following settings:
Partially closed positions before executing withdrawal requests (Deposit operations are also taken into account): Positions that are partially closed according to the share of the resulting equity of the PAMM account. For example, if current account equity is $10,000 and after processing deposit and withdrawal requests it drops to $9,000, each position is closed by 10%. If the sum of total deposits exceeds the sum of total withdrawals, then no action is taken.
Calculating individually each position's partially closed volume taking participating investors pool share into consideration: This only works together with the "Distribute profits from trades opened after the first deposit" option. For example, if investor A participates in positions X and Y, while investor B participates in positions Y, and Z, any withdrawals by investor B will influence positions Y and Z only.
Automatically withdraw fees